HomeGauge News Alert May 2011, Part 4
Welcome to the HomeGauge Network!
---
Welcome to the HomeGauge Network!

Our changes are in place and the new website and content is up! This new platform will be the best marketing platform for home inspectors in the industry!

HomeGauge has always been the leader in the inspection industry in regards to software and Internet tools, and the HG Network once again shows that innovation is at the heart of HomeGauge!

There is nothing like it in the industry and the new platform will give you many ways to increase the services you offer and help you become more successful.

We have added all new content for Service Providers and have made some changes for agents as well as inspectors. Please read the content on our website, and as always, give us your feedback! Take a look at your new dashboard after signing in and see for yourself.

What you need to do right now:

Go to the HG website and enter your zip code at the search. We have changed the look of your listing and have given you more features. Add your profile picture, logo and company image (new listing sample shown below).


We now display your last 10 Gauges as testimonials on your company profile page. Go to your dashboard (at sign in) and look for the Network tab. There you can see the "Gauges" setting and you can hide any short or fragmented testimonials and force the 10 you want displayed.


Turn the warranty setting on! At your dashboard or list of reports you will see the option to turn the warranty on or off. We think it's the best warranty out there that not only gives the buyer more coverage (covering undetected pre-existing conditions), but also gives better coverage on some repairs in general. It also protects the agent and inspector "more" from liability. The cost of this warranty is around $495 for 5,000 square feet or less, and the home inspector service option (a $75 value) is automatically included. We took the commission that normally goes to an agent and added more protection for them and you — plus more coverage for the buyer! This warranty is unprecedented and so is the value! We will be coming out with an "Agent Listing" warranty package for agents to handout to their sellers. It will encourage a seller's inspection or a warranty qualifier inspection that you conduct, or the sellers can wait for the buyer's inspection. Please go to our Community (Message Board) and read the thread on the HG network (under Internet tools) to see some FAQs concerning the network and the warranty!
Example of the new company profile page, showing testimonials: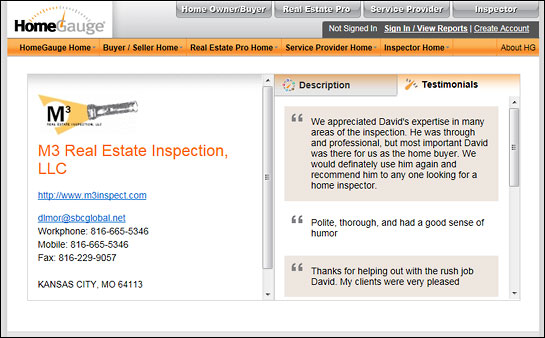 Stay tuned as we will be quickly adding more features and new programs designed to make you more money!
Attention HG users not using HG Services:
There is no better time to get on board than right now! New Services, a new platform, and The HomeGauge Network! Still only $30 a month or $300 a year. Sign up today!
Until next time,
Russell Buchanan
HomeGauge, President
russell@HomeGauge.com
828-254-2030