Important Notice to HomeGauge Inspectors
HomeGauge has an updated privacy policy that you should read. The privacy policy documents the opt in requirement before buyers can be contacted by the third-parties of your choosing. It also covers the secure manner that HomeGauge handles the data collected.
Please view our updated privacy policy.
HomeGauge also has an updated terms of use that you should read. This is typical jargon most companies use. The major change is that we specify that the data is collected by the inspector and have added a requirement for inspectors' agreements that we discuss below. As you continue to use HomeGauge, our service will follow this agreement.
Please view our updated terms of use.
---
Requirement for the inspector to add to his or her agreement
Why: To help protect yourself, your customer and HomeGauge (a 3rd party) from any potential legal issues involving the customer and their data. This can help protect the inspector when using other vendors that the inspector may decide to use outside of HomeGauge, such as: scheduling, call centers, or other vendor programs. This clause is aimed to help protect you and your company should you later opt in to any future vendor programs as well.
Please modify your customer agreement by January 31, 2018 to include the following:
In providing the property inspection and inspection report, information about the client, inspector, real estate professional, and property will be collected and input into HomeGauge inspection software and services, which inspector uses to produce the inspection report. This information may include personally-identifiable information about the client, inspector and real estate professional. This information may subsequently be used by the provider of HomeGauge, as set out in the HomeGauge Privacy Policy found at https://www.HomeGauge.com/privacy.html. Inspectors may choose to use this information to market new or related products and services to clients.
If you do not opt-in to / offer any third party programs to your customers that require their data to be shared, you can use a shorter version to just disclose that a third party is storing the report information. Here's an example, but you can modify this as needed:
My company uses a third party to store the report information and it will be kept private.
---
FAQ
Do I have to add the language to all my agreements?
Answer: Any agreement that can be used alone with your customer should have this information. It helps protect you as well as HomeGauge.
By putting this information in my agreement did I just consent to allow HG to sell my data?
Answer: No. Please read the Privacy Policy where it states you have to opt in to a program that may use this data in some way. Not all programs we offer involve moving any data.
How do I make this change to my agreement?
Answer: Watch this video: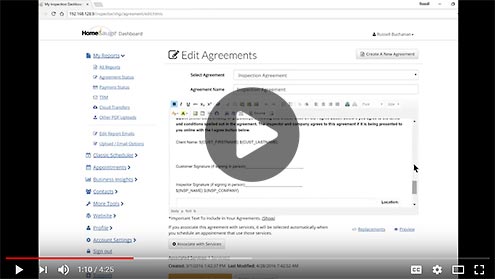 Can anyone help me make this change?
Answer: Watch the video for step by step. If you need help please contact Shancy@report-authority.com as she will help you at no charge for this update to your agreement.
How long do I have to change my inspection/home buyer agreement?
We understand that you have lives to lead and businesses to run, that's why we'll follow up with you after January 10th when you login to HomeGauge.com. You'll be asked to confirm that you did make the changes. If you still need help by that point refer back to these FAQs. Please make sure all your agreements include the new language by January 31, 2018.
When do the new Terms of Use and Privacy Policy take effect?
Answer: The updated Terms of Use and Privacy Policy take effect January 10th for all existing customers.
How do I accept these new Terms of Use?
Answer: Use of HomeGauge products and services after January 10th, 2018 assumes your agreement to these Terms of Use.
What are the biggest changes to the Terms of Use?
Answer: Adding privacy policy language and strengthening indemnification language to protect the inspector and the third party storing the data (HomeGauge). This helps clearly define liability protections with data storage in the software.
What are the most important parts of the Privacy Policy?
Answer: It highlights how data can be used if inspectors opt into third-party vendor programs and allows HomeGauge to move this data to approved vendors. It also clearly states how personally identifiable information is handled in a secure manner.
What if I never want to opt in to a third party program, do I still need to put this new language in my agreements?
Answer: Yes. This language also helps you clearly state that personally identifiable information is input into a third party (HomeGauge) which is a valuable disclaimer for you, the inspector.
Please contact terms@homegauge.com with any additional questions not answered on this page.