HomeGauge News Alert
August 2018
Time to Update Your Website? | Ricoh Special | Conferences
---
Is your website helping your competitors?
As a business owner, take a moment and ask yourself: Am I losing customers to my competitors just because their website is better than mine? Are my competitors secretly doing happy dances because of the current state of my website? The success of your business makes this worth thinking about, so I've put together a list of some things to consider if you're trying to figure out if it's time to work on or redesign your website. If anything you read here makes you pause, give the HomeGauge Web Team a call at (828) 254-2030 to discuss how we can help.
From our experience, up to 35% of your website visitors are viewing your website on mobile devices and tablets.
This means your website absolutely has to be mobile friendly, and ideally, it needs to be responsive. Responsive website design means your website will adapt to different screen sizes and should look good and work well on all devices, from small mobile devices to large screen desktops. Otherwise, you risk losing 35% of your visitors right off the top. If your website isn't mobile friendly, and ideally responsive, you should start the process of building a new website today. I mean today!
Most potential online customers would rather look at a nicely designed modern website than something plain or outdated.
Taste is subjective, but I would argue that quality isn't. Your website design has the job of making you look professional, modern, and even more importantly, trustworthy. That's right, good design instantly helps give an impression that your company is trustworthy. Just think from your own experience — when you're shopping online, and you come across a poorly made website, you notice it (in a bad way), and more than likely it will make you think twice. Many visitors will leave your website if your design is not professional — that's an unnecessary loss of potential business just because of some window dressing!
When viewing a home inspector's website for the first time, visitors want to see an easy way to contact you and an about page.
Most likely, your visitor is a new potential customer who doesn't know you, and again, you are trying to build trust. They are going to be working with you personally, or with one of your inspectors, and you are a stranger to them. Stranger danger! Make it easy for your potential customers to get to know you, trust you, and contact you. Your contact info with a call to action should be front and center. And even better, make it easy for them to request an appointment online! (It is 2018.)
Most viewers find it easier when a website is organized in a standard fashion, with an easy to use menu.
Creativity with design and your website menu can be fun, but people are lazy and don't want to learn another system just to use your website. They will likely move on to the next inspector if your website is difficult to use. Make sure your logo appears at the top and your menu is easy to use on all screen sizes. Most visitors will orient themselves to your site by looking at your main menu. If it makes sense, make sure that when you click your logo you return to your home page.
Customers listen to referrals and sellers' agents will often switch to you if they like your service.
We know, we all hate it, but the fact is that many inspectors are still directly referred by the buyer's agent or by one of the other parties involved in the sale of a home that you previously inspected. The point is, make sure all parties viewing your uploaded report are coming to your website to login. If you skip this step and send them a report attached to an email or send a link to a different website, you are missing a free marketing opportunity. I'll repeat myself — that's a free marketing opportunity to warm leads that you should not skip. Send them to your website to login to view your uploaded report (we can help you set it up). Give them a chance to see your website, get a feel for your professionalism, and hopefully remember you for the next time.
Top reasons to redesign your website
Your website is not generating any revenue, sales, or leads
Your top competitors' websites are better than yours
You are embarrassed by your website / your website does not make a good first impression / you need to improve the visual appeal
Looks like it was made 15 years ago / not up to current design trends
Has a poor user experience
Your brand, products, or services have changed
You want to add new functionality
No calls to action
You need a content strategy for SEO and Social Marketing, but your current site doesn't support blogs or social media integration
Your website does not rank well on search engines
You don't have analytics integrated into your website
Your website is made with the tools from Wix, Weebly, or GoDaddy (I know I'll get grief for this one)
Your niece, nephew, or neighbor's kid made your website for you — it saved you some money, but you could be losing even more because of it
Made from an inflexible template
Not using a content management system
Uses outdated 3rd party tools
Your website is difficult to use on mobile / not responsive
Your website isn't secure / not using SSL / https
You want to shake things up, sometimes you just need a change
I encourage you to take the leap and update your website. It's a great way to keep your competitors at bay and HomeGauge can help!
We have a great web development team right here at HomeGauge that's ready to take on your project! To help make your website redesign an even better investment for you, we're offering $100 off our normal website build price for the first 10 inspectors that respond and mention this special news alert offer (valid until September 15, 2018). Give us a call when you're ready at (828) 254-2030.
See what we can do!
---
Special discount and free shipping on Ricoh Theta SC cameras for HomeGauge users!
360° images are helping home inspectors grow their business and earn their real estate agents' loyalty. As an added benefit, inspectors are saving time by using 360° images during their inspections (see sample report), reducing their need for storage pictures. To help you get in the 360° game, we have negotiated a special discount on Ricoh Theta SC 360° cameras — they're cheaper here than on Amazon!
Don't miss out on this special limited-time offer from Ricoh for HomeGauge users! Just apply the special coupon code THETASCHOME when checking out to get $45 off the price and free shipping. *Note that the shipping fee will be removed at the end of the checkout process. UPDATE: This offer is only available until January 31, 2019.
---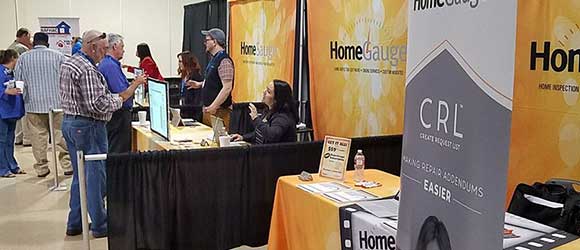 Upcoming Home Inspection Conferences
We hope to see you in person at one of these great conferences!
Southeastern Home Inspector Conference 2018 (Duluth, GA)
September 6-8, 2018
Conference Details
FABI Fall Conference (Ft. Lauderdale, FL)
September 14-16, 2018
Conference Details
New England Chapter of ASHI Annual Fall Conference (Portland, ME)
September 17-18, 2018
Conference Details
KREIA 2018 Fall Education Conference (KY)
September 28-29, 2018
Conference Details
A HomeGauge Training Class will be held on September 27th, the day before the KREIA Conference. This class is free for attendees of the KREIA conference and $99 for non-attendees. Call Maria at HomeGauge to reserve your spot today: (828) 254-2030, Option 1. Space is limited.
TPREIA / InterNACHI Annual Conference (Bryan, TX)
September 27-29, 2018
Conference Details
---
Until next time,
Russell Buchanan
HomeGauge Software
russell@homegauge.com
(828) 254-2030