HomeGauge News Alert
June 2018
Upload Boost | Free Webinars | Schedule Now! (beta) | Conferences
---
HomeGauge upload boost
We had planned to give everyone socks for Father's Day this year, but instead we thought we'd give you something you'd actually like. No, not that. This year we're giving everyone an upload boost. We've increased your maximum default uploaded report size from 30MB to 100MB! That's a 70MB increase at no additional cost! We know you're gonna need some more space for all those 360° images, so now you can make your report stand out even more. Wow, that's a lot of space for a single report!
Start using 360° images in your report with HomeGauge 5.3
With just a few minutes of your time at each inspection, you will knock the socks off of your home buyers and agents. Some of our beta testers have made a huge impact on their customers by adding a virtual 360° tour in their reports. It's a section with 360° images of each room of the house. It's all about marketing and it doesn't take long. Just take a quick shot in each room and add them all to the report. Ten minutes is all it takes to make a big impression. We're already hearing great stories from inspectors trying out the HomeGauge 5.3 beta and inserting 360° images in their reports. Home buyers, who often only get to quickly walk through their new house for a few minutes before buying, can now go back to their report and really look at the layout and details they may have missed. To say home buyers are loving it is an understatement.
I want that, how do I get the 5.3 beta?
If you're a member of the HomeGauge Users Group on Facebook, you may have already seen the link to download and try out the beta — and you can still get it there! If you aren't a member of this great HomeGauge Users Group, we highly recommend joining up. Frank Rotte and Scot Baker created this group independently so HomeGauge users could help each other and share tips. They do a great job of keeping the HomeGauge Users Group focused and on topic and we can't say enough good things about it. HomeGauge staff will often pop up on there as well to help out. It's a great resource that's available 24/7. We recommend all HomeGauge users join this group here:
Anything else new in 5.3?
You know it! A couple of features worth mentioning right now include the Zoom Overlay feature, where you can show a zoomed-in part of the image within your photo. Need to show a crack on a wall while still showing its location? Now that's possible in HomeGauge 5.3 with a single picture. You no longer need to show a zoomed in picture of a specific detail and a second picture just to show its location or a larger view. This is a great time saver and a nice way to help condense your report. Another feature worth mentioning is that we have added a comment button on the image editor. This is a quick way to enter your comment while inserting your image in your report. It's designed to make you more productive, especially when using the Edit All Photos feature in HomeGauge.
Can I see what you're talking about?
Yes. Check out this sample report with a 360° Home Tour and Zoom Overlay photos.
How can I get all the deets on 5.3?
A full list of enhancements will be available on our official release date of July 9, 2018. If you can't wait until then, we encourage you to join the HomeGauge Users Group and get the download link today! There's also a video posted with that link on Facebook that walks you through some of the new features. We're confident that HomeGauge 5.3 with the new 100MB default report upload limit will give you a great marketing boost. We'd love to get your feedback and hear what your customers think.
Happy Father's Day!
---

Free HomeGauge webinars (a.k.a. learning at home in your jamjams)
We've scheduled several new free webinars to help you get the most out of your HomeGauge Software and Services. We'd love for you to attend!
Webinar Topic: Getting to know the HomeGauge Dashboard
In this webinar we will take a look at many of the various features and settings available to you within the HomeGauge Dashboard.
Thursday, June 21st at 2:00 PM EDT, approx 1.5 hrs.
Webinar Topic: Using Appointments with HomeGauge Services
In this webinar we'll go over scheduling appointments, requesting electronic agreement signatures, payments, and more.
Wednesday June 27th at 1:00 PM EDT, approx 1.5 hrs.
Webinar Topic: Basics of using HomeGauge Inspection Software
This session will cover the basics of using the HomeGauge Version 5 software for report writing.
Tuesday, July 10th at 2:00 PM EDT, approx 1.5 hrs.
---

Schedule Now! (beta)
Our beta testers have spoken and we have listened. After hearing some initial feedback, we'll be making some modifications to how the public scheduling process works. If you want to join in the fun, we are still looking for more beta testers. We are going to release a feature for public scheduling of exact time slots for single inspector and multi-inspector firms and would love your feedback — we call it Schedule Now! This feature allows your customers and agents to book an exact time slot for an online appointment. If you are interested in signing up to be a beta tester, please send us an email at support@homegauge.com.
---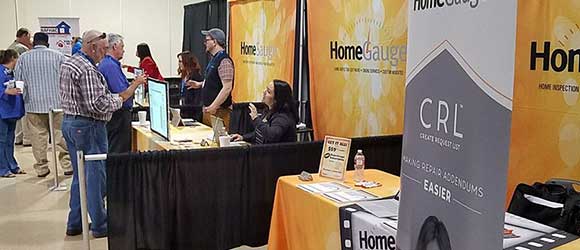 Upcoming Home Inspection Conferences
We hope to see you in person at one of these great conferences!
Southeastern Home Inspector Conference 2018 (Duluth, GA)
September 6-8, 2018
Conference Details
FABI Fall Conference (Ft. Lauderdale, FL)
September 14-16, 2018
Conference Details
KREIA 2018 Fall Education Conference (KY)
September 28-29, 2018
Conference Details
TPREIA / InterNACHI Annual Conference (Bryan, TX)
September 27-29, 2018
Conference Details
---
Until next time,
Russell Buchanan
HomeGauge President
russell@homegauge.com
(828) 254-2030