HomeGauge News Alert September 2017
Rumors | Free Trial | Quick Search | HG Tip | Webinars | Conferences
---
Jiminy crickets, it's been a crazy couple of rumor-filled weeks!
Unless you've been living under a rock, you couldn't have missed the drama from the last few weeks. As a result, there have been some privacy concerns. There's been a lot of attention brought to HomeGauge as well because of what's been going on, including some attempts by our competitors to spread false rumors. Inspectors are concerned about the privacy of their customer's data — and they should be. We are too.
Anyone can take a cheap jab, but let's set the record straight
Last week I released an official statement on our company's Facebook page to say exactly what's going on with HomeGauge.
From Facebook:
HomeGauge has and always will be committed to supporting our inspectors in growing their business and being successful. That translates into building software, services, and partnerships that enable you the inspector, our direct customers, to better serve your customers, both the home buyer and the real estate agent.
Based on reactions to the ISN announcement made on Friday, there is clearly angst about inspectors maintaining control of their business and their customers. Transparency and trust are important values that HomeGauge will always subscribe to. Have any of you been recently asked to opt out of anything from HomeGauge? No, all programs that would include the transfer of any data will always come with an opt-in and an opt-out for inspectors to decide what is best for their customers. HomeGauge has worked hard to be the FIRST to create cool features to accelerate your business, such as; uploaded reports, HTML for interactive web presentations, incorporation of video and CRL. As we are working hard to advance our features our competitors seem to be working hard to copy them. As I write this post, I sit at the NC Realtor EXPO promoting inspectors that use HomeGauge and our CRL feature. Agents attending the show are loving it. They are being directed to the "Find a HomeGauge Inspector" page on our website. We are helping you find customers. You all know me well enough, that it is my personal goal to continue to make HomeGauge the best software and services provider to inspectors! But we aren't perfect.
I am tired of the pace of development being slower than I want or what you want based on my limited resources. Quite a while ago, I took on an investor to help me fund growing HomeGauge. As a result, the changes have been an employee increase from 13 to 21, and... more programmers! Also, funding and expertise to increase privacy and data security due to things that can happen, such as the Equifax breach. I am also using the additional resources to expedite the launch of more innovative services and features. As far as drama goes, well you are stuck with me. I plan to grow HG and I remain at the helm.
I am not going to go back and forth with inspectors who get prompted in secret by my competitors to keep badgering me about what is coming next, they will have to wait.
In the meantime, take a look at our booth! We were live at the Expo too. See it on this page!
Russell
FAQ
Q: Did Porch, HomeAdvisor, or Comcast purchase HomeGauge?
A: No.
Q: Did Porch, HomeAdvisor, or Comcast purchase a part of HomeGauge?
A: No.
Q: Did Porch, HomeAdvisor, or Comcast start a partnership with HomeGauge?
A: No.
Q: Why would Comcast want to purchase HomeGauge?
A: We have no idea.
Q: What happened at those other companies?
A: Please ask them.
---

Now is a great time to try HomeGauge!
As the busy season comes to a close, now is a great time to try out HomeGauge. We are now offering an extended 60-day free trial of our software and online services. Sign up now — this extended free trial ends on 10/13/2017. After that date the trial will return to 30 days. This is also a great opportunity to try out HomeGauge's online Appointment Manager — schedule appointments online, use online agreements, assign inspection services, take online payments, deliver your reports, and review your statistics. We are ramping up development to add features and make improvements every week. Best of all, it's all included in the flat cost of HomeGauge Services. HomeGauge has never and never will charge per report. Check out all our features right now with a special extended trial of our software and services.
---
We are excited to announce a new Quick User Search feature in our Appointment Manager
Now you can quickly find your customers and reps by name, email address or username, and add them to your appointment in an instant. Everything is faster! This is just one new feature in a long list that is getting added to our online Appointment Manager, included as a standard part of HomeGauge Services, at no additional cost.
How does it work?
It couldn't be simpler. Just start typing the name or email address and suggestions will pop up. Click on the name in the list to add them to your appointment. For more information on using the Appointment Manager, please watch our recent webinars to see how the Appointment Manager works:
• Using Appointments with HomeGauge Services
• Loading your Agreements and Inspection Services
Try it out!
If you are a current HomeGauge Services or Subscription user, go to your HomeGauge.com Dashboard and click on New Appointment under the Appointments menu. If you are new to HomeGauge and haven't started a trial yet, be sure to take advantage of our limited time extended 60-day trial that's available through 10/13/2017 (after that it returns to 30 days).
---

HomeGauge speed tip: Edit All Photos
We are asked from time to time why we don't create a mobile image editor directly in the HomeGauge Companion. We've seen them, but we think we have a better way to quickly edit your photos — our Edit All Photos feature.
How does it work?
After you pull down your report you created in the HomeGauge Companion from the cloud to your HomeGauge desktop software, click on the dropdown near the top of the menu and select Edit All Photos. Click on "Find First" and the process will walk you through every image in your report, where you can add arrows or text to each as you go. Since you created the report in the HomeGauge Companion, the photos should already be in their correct locations, so once you quickly go through them all here, you are done with your pictures. Try it for yourself and see how quickly it goes! You can also watch our recent Report Writing Speed Tips for HomeGauge webinar to see how it works. The Edit All Photos feature starts around minute 17 in the video if you want to skip ahead.
---

More free HomeGauge webinars
A great way to learn about HomeGauge's features is to attend some of our free webinars! Our topics are constantly updated and include both the software and online services.
Sign up for a webinar today!
• October 12, 2017: Basics of HomeGauge Software
• October 18, 2017: The HomeGauge Dashboard
---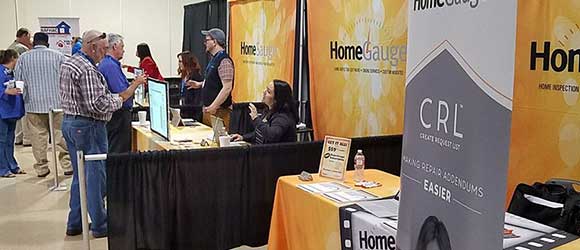 Upcoming home inspection conferences
We would be very sad if you didn't come see us in person at one of these great inspection conferences.
TAREI 2017 Fall Conference
October 20-21, 2017
Conference Details
WAHI 2017 Fall Conference
November 3-4, 2017
Conference Details
FABI 2017 Winter Conference
December 8-9, 2017
Conference Details
InspectionWorld Orlando 2018
January 21-24, 2018
Conference Details
CREIA 2018 Annual Conference
April 26-29, 2018
Conference Details
---
Until next time,
Russell Buchanan
HomeGauge President
russell@homegauge.com
(828) 254-2030