HomeGauge News Alert
December 2018
New Year's Resolution for 2019 | Upcoming Conferences
---
Need Another New Year's Resolution? How About Speeding Up Your Report Writing With Advanced HomeGauge Features...
Here are some advanced HomeGauge tips to help you get the job done faster. Make it your New Year's Resolution to start using these today!
1) Double click the column headers
During an inspection, most inspectors will take note of all the defects first, record the styles/materials, and fill out the rest later (this works especially well when using the HomeGauge Companion). Did you know that you can double click a column header on your desktop software to check all the remaining unanswered checkboxes in a section at once? This tip is a real timesaver.
2) Double click inspection items to open the auto comments box
This is a nice little shortcut on your desktop software to quickly bring up your auto comments box — just double click on the inspection item instead of clicking on the smaller magic wand icon. Bonus tip: if the inspection item is highlighted, you can press the Enter (or Return) key on your keyboard to bring up the auto comments box as well.
3) Press ctrl+space to prompt smart text replacements
If you have a comment with a smart text that hasn't been replaced yet, push ctrl+space on your keyboard to bring up the replacements dialog. This can save you time over using the dropdown menu from the gear button in the comment editor.
4) *FREEFORM*
This is a deep HomeGauge feature. We're talking James Cameron deep. You can use the special smart text replacement *FREEFORM* in any comment and it will give you the option to type in any text for replacement. This is extremely useful for cases where there would just be too many replacement options to create in your template, but you still want a prompt to replace some text in a comment. Some advanced users take this a step further and add it to their connector list as well. This gives you even more flexibility in your smart sentence creation.
5) Link a comment to a Style and Material selection
Do you have a comment you always use when a specific style/material is present in an inspection? You can set a comment to be automatically inserted into your report when a style/material is selected. To do that, go to the Styles and Materials tab, select a component and click on Edit T. In the window that pops up, highlight the option from the list and click on the Wrench button to edit it. Click on the Modify Auto Comment List button to add a comment to be automatically inserted into your report when that item is selected. Stop wasting time with extra clicks!
6) Allow editing of the report with an open print preview
This one is especially useful if you use multiple monitors. To enable this feature, go to the menu Options, General Options, then click the checkbox to Allow editing of report when print preview remains open. This feature will allow you to print preview your report, then move the window off to the side and edit the report while referring to the preview. It shows the preview at its state when you created it, so you may need to create a new preview after you've made some changes. This is a great way to check your final work and speed up the final delivery process.
7) Edit all photos / batch photo editing
If you are using the HomeGauge Companion, this feature is an absolute must. After taking all your photos and collecting your inspection data using your HomeGauge Companion, use HomeGauge's Cloud Transfer to copy your report to your desktop for final review and delivery. With your report open on your HomeGauge desktop, use the dropdown at the top to select Edit All Photos and click on Find First. This quick process will let you edit every photo in your report, one after another, until you are finished. While editing your photos you can also edit the comment associated with it. Some inspectors speed up their process even more by adding the comments on the desktop software when using the Edit All Photos feature instead of on the HomeGauge Companion onsite. See this feature in use in our HomeGauge Companion Overview.
8) Report fill
Do you inspect a lot of units that are nearly identical? If so, you should save yourself some headaches and use the Report Fill feature. This feature lets you create a set of saved answers that can be applied to a new report. To create a Report Fill, start up a new report, answer styles/materials and inspection items, then choose the menu Report and click Save New Report Fill... Give your Report Fill a name and select the sections you want to save (you can also click Select All). To use it in the future, after you've started your report, go to the menu Report and click Apply Report Fill...
9) Download online appointments
Are you using our online Appointment Manager? If you are, you can save yourself some typing and download your online appointments directly to your HomeGauge desktop software or HomeGauge Companion for Android. Go to the HG Services menu and select Download Online Appointments. This not only saves you time from typing when starting up a report, but it also helps to keep all your information accurate. And even better — if your client requested the online appointment from your website, you won't have to type in any of the basic inspection information at all. They did it for you!
10) Duplicate sections
Need to add an additional bathroom on the fly during an inspection? It's quick and easy in HomeGauge with duplicate sections. To make a duplicate section, click on the section container's name, such as Components or Optional, then click on the section you want to duplicate so a dotted black line appears around it. Click on the ++ button to add a duplicate section. It's that easy! As a bonus, your template is not changed when you use this feature for a single report. You can use it as needed.
11) Reinspection
If you need to do a reinspection report, be sure to take advantage of HomeGauge's Reinspection feature. To create a reinspection report in the software, click on Open, select the report from the list, then click on the Gear icon and select the option to Create Reinspection From Selected Report. This handy feature creates a copy of the original report, excludes all items except Summary items, flags each Summary item, and changes the date/time of the report to the present. You can then use the Find Flagged feature in the software to go directly to each item. Let HomeGauge do the work for you!
12) Online tutorials
If you haven't checked out our online video tutorials lately, check out what's new. Subscribe to our YouTube Channel to keep up to date.
Wow, You Made It!
These are just some of the many productivity gems in HomeGauge and we hope you found something new that will help you be even more productive going forward. We wish you all the best for 2019 and look forward to continuing to provide you with the best software in the industry for many years to come!
And what's HomeGauge's New Year's Resolution? It's to release many of the products we have currently in development in 2019. We'll be introducing new features and improvements that continue to provide our customers (that's you) with a cutting edge experience! Think BIG for 2019!
---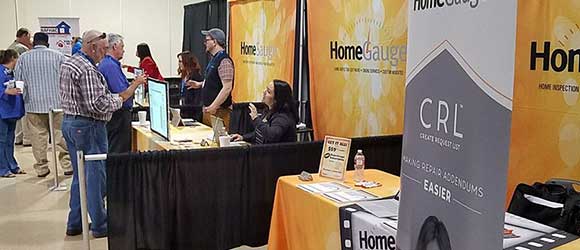 Home Inspection Conferences
We hope to see you at one of these upcoming conferences!
Maryland Association of Home Inspectors (Linthicum Heights, MD)
January 11-12, 2019
Conference Details
ASHI InspectionWorld (San Diego, CA)
January 20-23, 2019
Conference Details
TREET (Georgetown, TX)
February 2, 2019
Home Inspectors Association of BC (Vancouver, BC)
March 22-24, 2019
---
Until next time,
Russell Buchanan
HomeGauge Software
russell@homegauge.com
(828) 254-2030