HomeGauge News Alert March 2014
DIY Websites | WordPress Webinar | XP Alert | Training Full | Comparing | Tip | Coming Up
---
Now you can hammer out your own killer website with WordPress. Doing it yourself can save you money and you can do it on your own schedule (that's the best part!).
How do I get started?
Call us at 828-254-2030 — we'll need to know your company name and the domain you plan on using (if you have one). Once we get your website installed, we will email you information on how to login to your website and get started. To make it even better,
we'll provide a 2 month free trial of web hosting
while you get started. If you don't have a website now, or are looking for a change, let us know!
We are hosting a free webinar,
"An Introduction To WordPress"
on March 5, 2014 at 10:00 AM EST. Anyone can attend this webinar, which will focus on core tasks, such as editing a page, adding pictures, picking and installing a theme, and more. Don't miss out on this chance to watch, learn, and ask your own questions. WordPress really isn't scary once you start clicking around. Also, since WordPress is such a popular program, most questions can be answered with a quick Google search.
Sign up for the free webinar
Ah man, I thought I was going to have time for this, but now I'm too busy!
No problem, we can take over and give your website a Kick-Start! For $399 we will do the work to get your site up and running. Once it is setup, you can login whenever you like and make your own edits.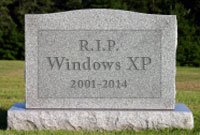 Shame, shame, shame,
but now there's a real reason to stop. Microsoft is officially stopping support for Windows XP on April 8, 2014. That means there will be no more security updates or technical support for Windows XP. The computer security community is strongly warning everyone to switch. It's suspected that many unknown hacks will be released right after support for XP stops — so use Windows XP after that date at your own risk! For those who don't like Windows 8, don't worry, Windows 7 is still available from many places and is easy to use.
Our Asheville HomeGauge Software Training on March 13-14 is full! Asheville is the place to be in March, and we will plan for another in April so everyone who wants to attend will get a chance! More info will be coming soon on our next training date.
InterNACHI hosted a
Software Shootout
not long ago. It's rumored HomeGauge won.
Hey, don't take my word for it...
If you are convinced, don't miss out on
our special
which ends on March 17th.
Did you know you can edit a report while looking at the preview?
In the software under
Options
, pick
General Options
, then make sure the checkbox is checked for
Allow editing of report when print preview remains open
. What this allows you to do is to print preview your report, then leave the print preview open while you make edits to your report. You can drag your print preview to the side and leave it up on your screen while you edit your report. This function works best on a large monitor, or multi-monitor setup. The editing does not take place in the print preview itself (not wysiwyg).
What about the HG Companion for iPhone/iPad? Yes, yes, yes. It is so, so close, but we still have a few bugs to work out. It's coming soon...stay tuned!
Exciting changes are coming to our software soon that will give you MORE room to add video in your report!
Integration with some other vendors in the industry is coming soon too!
Pfft...
If you like us on facebook, you will often be the first to find out HomeGauge news and specials.
Like us now
...and
we will like you back!
HomeGauge YouTube Channel
Until next time,
Russell Buchanan
HomeGauge, President
russell@HomeGauge.com
828-254-2030